Discussions about an international association for systemic constellations were initiated many years ago by members of the IAG (roughly translated as The International Working Group for Systemic Resolution in the Tradition of Bert Hellinger). Under the leadership of Heinrich Breuer, the mainly German IAG was eager to investigate the possibility of creating an international association.
At the 2005 International Congress in Cologne, Heinrich Breuer, Gunthard Weber, Albrecht Mahr, Jakob Schneider and Hunter Beaumont convened a meeting which was representing all the countries attending the conference. The goal was to assess the interest in creating an international organisation, which the participants unanimously agreed to pursue. Concerns about criteria and the need for an inclusive vision were expressed and agreed upon.
Heinrich Breuer convened a second meeting in Cologne in June 2006. Based on clear evidence of interest in the global community, a steering committee of volunteers was formed to develop the proposal for a new association, composed of Hunter Beaumont (Germany), Heinrich Breuer (Germany), Gerard Fossat (France), Milena Karlinska (Poland), Annouche Katzeff (Belgium), Constanze Potschka-Lang (France), Katharina Stresius (Germany), Marta Thorsheim (Norway) and Richard Wallstein (England) with Richard as Chairman.
The proposal developed included a name for the organisation:
"International Systemic Constellation Association (ISCA)"
and contained issues of membership criteria, curriculum, and website development and indicated the international community's commitment to:
An inclusive association;

Supporting excellence without controlling its members;

Multi-cultural and interdisciplinary;

Networking, dialogue and diversity;

An infrastructure supportive of the whole and the individual;

Supporting the field,

Not-for-profit.
In May 2007, the proposal was presented to the "Founding Assembly of ISCA" to 80 practitioners from around the world, following the close of the International Congress in Cologne. There were discussions and suggestions coming from Assembly members, including a move, carried by the Assembly, to honor Bert Hellinger as the founder of systemic constellation work. The Assembly voted unanimously to proceed with creating an Association in accordance with the amended committee's proposal, hereafter known as the Original Charter of ISCA.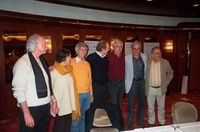 Greeting the Founding Assembly of ISCA, Cologne 2007: Wilfred Nellis, Guni Baxa, Jakob Schneider, Gunthard Weber, Hunter Beaumont, Albrecht Mahr, Heinrich Breuer
Hunter Beaumont, Richard Wallstein and Constanze Potschka-Lang were elected as the first Board of ISCA in the positions of President, Vice President and Treasurer respectively. The IAG donated €3,500 as a start-up fund.
The original charter was changed and shortened  during the following year and was registered on 1st July 2008. At the General Assembly of ISCA on 23rd October 2016 in Zagreb, Croatia, a new charter was approved which is reflecting the will of the Founding Assembly.

ISCA could not have been established without the generous support of many people. Everyone working on this project has generously donated time, expertise and money. On behalf of its members, ISCA expresses thanks for their generosity and dedication.