International Constellations Journal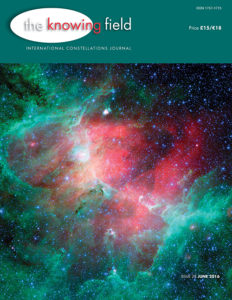 The Knowing Field started its life as the Systemic Solutions Bulletin in the year 2000. Founded by Barbara Stones and Jutta ten Herkel, four issues were produced between 2000 and 2004.
In 2004 Barbara Morgan took over as Editor and has been in that position since that time. After issue 5 in 2004 she changed the name to The Knowing Field, began to produce the journal twice a year and doubled its size. With contributions coming from many people in the field, the number and range of articles began to increase exponentially and now we have a rich journal of about 80-90 pages being produced twice a year.
The content ranges from poems, personal constellation stories, spotlight interviews with people in the field to new developments around brain activity, historical explorations into different cultures and nations, research projects into the effectiveness of constellation work, reports of conferences and intensives in various countries to personal reflections on all kinds of topics. In each issue is a contribution from Bert Hellinger.
People living in isolated areas say the journal helps them to feel connected to the wider field and alongside ISCA it acts as a connecting force linking us all across the globe. It is fascinating to see the cross-cultural differences coming together in these forums.
There is a discussion forum on the website where reactions to particular articles can be expressed and developed. By offering a two-way discount for membership of each organisation, we are hoping to foster cross-fertilisation of ideas and support between us.
Please visit the website and give us your feedback and ideas for improvement.
There you can see extracts and contents of past issues.
If you feel like becoming more involved with journal activities please contact Barbara Morgan.
Happy Reading!
To subscribe and to find content of past issues: TKF Homepage
www.theknowingfield.com
Please note: distribution of the Journal is digital only, a Pdf send straight to your inbox

---
ISCA members are offered a 20% discount for becoming subscriber of TKF
To obtain the required discount code write to
admin(at)isca-network.org