To list your event, contact the Board
---

——————————————–
Women, Men and Peace Workshop
with
Anngwyn St.Just & Karl-Heinz Rauscher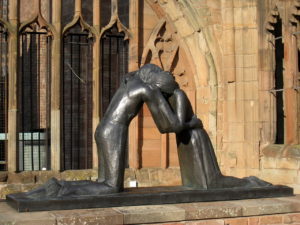 FRIDAY 16 June 2017 10:00hrs to 17:00hrs
SATURDAY 17 June 2017 10:00hrs to 17:00hrs
SUNDAY 18 June 2017 10:00hrs to 17:00hrs
VENUE:- Coventry Cathedral, Lecture Hall, 1 Hill Top, Coventry CV1 5AB
---
---
Trauma Through the Systemic Constellation Lens
The Centre for Systemic Constellations
Venue: China Exchange UK, 32A Gerrard Street, London W1D 6JA
When: Monday 26th – Wednesday 28th June 2017 from 10am to 5.30pm
Costs: The price for this conference is £495, but if you would like to book before 31st March there is an early bird price of £395 available.
With:  Anngwyn St Just, Sarah Peyton, Judith Hemming, Jutta ten Herkel and others
For the first time in the UK, we are gathering together a group of the most inspirational trainers in the field of Systemic Constellation Work to share their knowledge and experience of Trauma through the Systemic Lens.
---
Healing Historic Social Trauma
with Anngwyn St Just, Ph.D. (Arizona)
 Tara Yoga Centre
2nd Floor Crown House
193 Cowley Road
Oxford U.K.
All information:
---
---
2017, Healing into Wholeness
DANUBE DIALOGUES 2017          
          Healing into Wholeness

Reawakening to the Oneness in the Danube valley 
Collective Traumas in our Danube-Carpathian region
an  Ariadne Gaia Foundation program
with  Agota E Ruzsa                             
 September 6-11.
A HEALING JOURNEY: Budapest-Bosnia-Belgrade
Embracing The Carpathians: Weaving Dialogues-Healing Collective Traumas
invited guests:
Anngwyn St Just, USA 

Wisdom Weavers: Weaving a new Tapestry for Sacred Democracy
———————————————————————————————–
Trauma and Organizations
September 14 – 17  2017, Riga, Latvia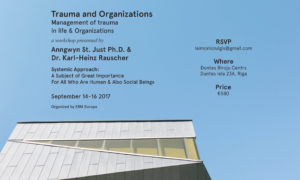 Our innovative & interactive blend of systemic constellations, together with multi-modal, cross cultural, occasionally non-verbal, systemically oriented trauma work is offered with a recognition that we are rapidly moving into a future that is radically different from our remembered past, & that it is also true that unresolved issues from our historical & collective traumas can & do manifest within our working lives & even profoundly shape our choices of profession. How we meet such challenges can present a profound opportunity for both personal & societal transformation.
ebm-eu.com • anngwyn.wisrville.org • dr-rauscher.de
———————————————————————————————————————–
———————————————————————————————————————–
International Systemic Constellation Intensive 2017 with Stephan Hausner
Date/Time Oct, 4th – 8th 2017
Venue Praxis für Systemische Medizin, Siegsdorf
"Tomorrow is only the future if it is not a repetition of today"Orienting towards Transformation using Systemic Constellation Work
The Intention of this Training Workshop is to explore and discover basic principles of Transformation-Oriented Systemic Constellation Work.
Participants have the opportunity to present personal and professional issues and questions. We will be working with them, knowing that learning, evolving and healing is the same movement.
This workshop is for professionals out of the international community of systemic constellation work.

Healing Practitioner; education in Traditional Chinese Medicine, Homeopathy and Osteopathy and various approaches in humanistic Psychotherapy is working since 1993 with Systemic Constellation Work, focusing mostly in Illness and Health. Leading International workshops and trainings in more than 45 countries. Author of: "Even if it Costs me my Life". – Systemic Constellations as complementary solutions for illness and chronic symptoms.
 ——————————————————————————————
———————————————————————————————————–
YOU ARE ONE OF US;
Systemic Insights and Solutions for Parents, Teachers and Students
Workshop by Marriane Franke-Gricksch,
21.10. & 22.10.2017.    ZAGREB, Croatia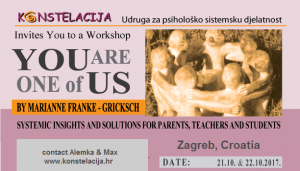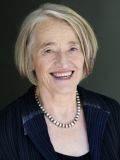 Marianne Franke-Gricksch is a mother of two sons and grandmother of four grandchildren. She worked for 28 years in primary and secondary schools. She became a holistic practitioner and a psychotherapist who incorporates primal therapy and body work into her practice. She has trained in a variety of systemic orientations including family constellations with Bert Hellinger, hypnotherapy and NLP.
Marianne has worked as an independent practitioner in Munich since 1990. She leads family constellation workshops and special trainings for teachers and for the development of systemic work in schools, also with parents and young people. She is a trainer for facilitators in the DGfS (Deutsche Gesellschaft für Systemaufstellungen)
---