———————————————–
At the end of a marvelous event
Zagreb  24.10.2016

participants expressing the spirit of the Gathering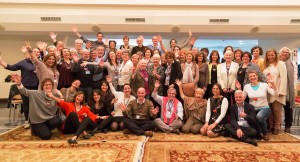 Reports on Conferences & Intensives
(as published in the International Systemic Constellations Journal "The Knowing Field",
issue 29, January 2017, www.theknowingfield.com)
'Constellating Future', ISCA Gathering,
Zagreb, Croatia 21–25 October 2016
——————————-
READ BELOW:
Report from the Chair, Max Dauskardt
Reflections from the Organising Committee, Alemka Dauskardt
Reflections from the participants: Paul Stoney, Leslie Nipps, Silvia Siret, Verónica Patricia Vázquez Moyado

Reflections from the presenters: Marianne Franke, Elena Veselago
---
Report from the Chair, Max Dauskardt
ISCA 2.0 was brought into being by all those many members who came from 17 countries on three continents to meet in the Capital of Croatia. From the moment we got together on the 21 Oct and Cecilio Fernandez Regojo began the proceedings in his very special, grounded way, we all contributed to the collective experience of community building.
It had been a step into the unknown all along. How much life was left in the original idea that created ISCA 1.0? We were at risk of failure, yet kept moving towards the vision of community. The registrations only trickled in at first, but then kept coming, all counted we were close to 100. The reward for each one of us who had made the considerable effort to set aside time from our lives to participate in the event in Zagreb, can only be described by each of us in our own way. Individually we received from it, some of us in unexpected ways.
The structure of the Gathering provided a variety of content and experiences. Cecilio's pre-gathering workshop transformed a collection of 'strangers' into a cohesive group, which made it easy for more participants to join in on Saturday for the main event, which continued until Monday afternoon and finished with a lunch-time banquet. We started with a ritual, the 'constellation of the world' by placing ourselves in the large venue room, stepping into our countries on the world map outlined and felt our own position from which we belong to the constellation community. Throughout the event we were enriched by a number of presentations as part of the main programme, but also through participants' contributions, which showed just how much variety and talent there is in our constellators' world.
We saw generously provided individual translation to Serbian, Russian and Spanish, a reminder of our diversity and also a reminder of the universal language of the work itself, which we share! On Sunday afternoon we had a break-out session during which we continued the work started online by a group of interested ISCA members before the Gathering on five themes: Core Constellation Concepts, Membership and Training Issues, Recommended Ethical Guidelines, Regional Chapters and Management Issues. According to our individual interest we participated in one of the round table groups, so everyone had the chance to contribute in their own way what was important to them. The outcomes and commitments were summed up and are available on ISCA web page Forum for further input by all members.
Perhaps the most beautifully intense moment of our gathering was the 'ritual' or group constellation we did later that afternoon, after we had decided to change the beginning of ISCA's charter, as suggested several weeks before. The decision was made by the Members General Assembly to restore the will of the Founding Assembly of 2007 and amend the Charter as follows:
The approach to working with human relationship systems that became known as Family Constellations or Systemic Constellation Work (SCW) presents an important and unique method for the understanding of human relationship systems: families, organisations and nations, a tool for resolution of conflict and suffering.
Combining many different strands of knowledge, coupled with his own phenomenological insights, Bert Hellinger developed this approach.
The original approach is continually evolving as it is applied in various contexts, across many cultures, professional disciplines and areas of application by many practitioners around the world.
This change being accomplished, we proceeded with a group constellation process of inclusion of everyone and everything that wanted and needed to be included. The centre of our large circle was opened and participants were invited to step into the space and say who or what they were standing for, as they felt inspired. One after the other came forward in a most solemn way and spoke their words. The space filled with representing constellators and the deep sense of community their presence conveyed. It felt to me as if the past, present and future came together in harmony. In silence, we stood together.
I believe the party we celebrated in the evening was louder and wilder as a result of this process. We danced to CD music initially and this was followed by vigorous dancing to live 'boogie woogie' music, performed by Paul Stoney and his spontaneously formed band of colleagues. This was 'boogie' played at its best. ISCA – alive and dancing.
At the end of the Gathering I was left with a clear sense of community, connectedness and enthusiasm, shared by many, wanting more opportunities for meeting, wanting to continue to gather around the common core, celebrating our diversity. Thank you to all who came, all who helped with the preparations to make it the success it was. My deepest gratitude goes to the organising team, led by Alemka Dauskardt.
Now looking ahead from ISCA's Chair with the Gathering's motto in mind: 'Celebrating our diversity – Strengthening what we have in common' I see the challenge for ISCA as twofold:
'strengthening what we have in common' without losing touch with those who do not agree, because ISCA is about inclusion and not about creating a 'new' truth which would exclude others.
'celebrating our diversity' without regarding any one 'expression of our diversity' as being superior to any other, because ISCA is about bringing together and not about separating constellators from each other, because ISCA is about acceptance and not judgement.
We share a common interest in being able to convey to others what constellating is all about, an ongoing and important task not easily accomplished. We have in common what got us to the 'constellating table' at first; many of us recall our personal 'life-changing moment' during one particular constellation we were part of. We each bring our particular life experience, which make us the unique human beings we are. This is what constitutes our collective diversity, which I see as strengthened by an accepting awareness of our humanness. I invite you to join us and be part of making our diversity our strength. Become a member and contribute to the work on any aspect you hold an interest for, through ISCA Forum and other avenues. Our lively monthly online meetings provide a wonderful way for staying in touch and for growing together. We are only at the beginning of the collective journey of exploration to find out what the future holds for our community.
Max Dauskardt  Chair, ISCA
---
Reflections from the Organising Committee
Alemka Dauskardt
In the invitation to 'Constellating Future', a recent gathering in Zagreb, Croatia, organised by ISCA, constellation practitioners 'of all persuasions' were invited to:
Celebrate constellation work through meeting, networking and exchanging
Present some innovative ways of working and thinking about constellations
Give us a chance to look to the future: both in a sense of exploring future directions of the work as well as being the enablers of that future.
It was quite an ambitious task and promise to uphold, especially considering the fact that not even two years previously ISCA had come very close to dissolution and many constellators had lost faith in the ability of this association to survive and thrive. Organising a gathering of members, as well as others with interest in constellations, was partly a way of 'testing the field' and gaining more insight into 'what the current situation was', and exploring possible answers to the question "Is there a future for ISCA?".
I had already been following this process at close quarters (not always of my own choosing!), through being the wife of the Chairman. However, I then made a decision to become more actively involved by becoming a member of the 'Constellating Future' event Organising Committee and together with the ISCA Board members, I shared all the challenges and delights involved. The delights came only at the end, but the challenges were there from the beginning! Uncertainty, doubt, mistrust, inherited conflicts of conscience, systemic burdens, divisions, divided loyalties, unacknowledged contributions, difficulties in communication…to name just a few.
For me, one question continued to be in the foreground: is there a common core around which we can all coalesce as a community and feel a sense of belonging, whilst at the same time allowing for all our differences and individual approaches to the work? And connected to that, what is that core, what are the boundaries of the system we all belong to and what differentiates us from those who do not coalesce around this particular core? More concretely, are we a community at all and do we need an association which is an expression of that community?
These and many other questions remained unanswered during the many months in which we had to proceed with organising the event, I would say, in blind faith. Holding the space without a clear path ahead and not knowing the outcome, not even hoping for or imagining any – that was the hard part – a bit like doing a constellation.
Most of that 'space holding' was done by just a few of us. First and foremost, by Max Dauskardt as Chairman, then Elena Veselago as a Board member and me as an event organiser. When we desperately needed some support for this 'space holding', a few people came forward via ISCA's monthly Community Calls and they became the Transition Team – a team whose role was to support both the event itself and the current Board in its transition from the past into the future. The members of this team were Leslie Nipps, James Woeber, Andrew Macdonald and Orianne Corman. In addition there were a number of people who provided process consultation, which helped us clarify some systemic issues at particular points along the way and enabled us to proceed. Many also simply offered good wishes, kindness and encouragement, which was valuable and helped carry the process along.
Dare I say it, but what actually happened at the Gathering surpassed everyone's expectations, it certainly did mine! The number of people present from so many countries was a wonderful surprise. For me, who was born in Zagreb, it was a beautiful gift to share my town with constellators from Austria, Belgium, Germany, the UK, the USA, Mexico, Columbia, France, Portugal, Spain, Slovenia, Serbia, New Zealand, Russia, Norway, Canada, Hungary and Australia. The strength of connection, the pure joy of being among 'like-minded' people, sharing openly with each other without judgement, a sense of inclusion, appreciation of differences, gratitude, new insights, learning, the energy of YES – this and more gave us a clear answer to the question with which we had started.
Yes, we clearly share the same core, the core being a Constellation Approach. Yes, it is the same core, no matter which direction we have taken the work in. Yes, we are a community and, yes, belonging to this community gives us joy and a sense of 'instant recognition' which sometimes overrides the importance of our other connections. Yes, we belong to a community of equals, where there is no need for us try and find out whether our own way of working is 'better or worse than someone else's ….'. And, yes, we want an international association of constellators which will continue to hold a space for: exchanging ideas, sharing experiences, keeping in touch, and providing meeting opportunities, both online and in person, which we all so clearly enjoyed.
These shared experiences gave us a sense of elation, joy and hope. There was a lot of positive, simply joyful energy.
And then, there were also difficulties, unforeseen challenges. At times things didn't go according to 'plan'; there were differences of opinion and a questioning of some of the processes; there was stress and some conflict as well. There were those who wanted to know more about the past and its 'secrets'. whilst others just wanted to look at the future. There were those who were hopeful, others who were uncertain and some who felt betrayed. There were those who just wanted to 'get the work done' and those who wanted time to allow the process to unfold. There were male and female energies being played out, as they do, with love but not always in harmony. There were obstructing energies coming from who knows where. And there were systemic issues which clearly reflected fragmented relationships, broken connections, conflict and betrayal, as part of our constellation community.
Maybe the pivot moment of the Gathering was when some of this became visible and there was a clear discord accompanied by some fear and uncertainty about how to proceed. Again, not unlike a constellation. We all went through this tense moment in our own individual way, its meaning and impact different for each of those present. We found our way through all this as a group firstly by allowing for it and secondly, with some trepidation by acknowledging it,. This process was followed by the formal proceedings of the General Assembly, which had already been announced by ISCA's Chairman, Max Dauskardt, during which the voting took place to change the ISCA Charter.
In essence, there were no objections to the proposal to replace the existing Charter in order for it to better reflect the will of the majority of those present at the Founding Assembly held  in Koln in 2007. The move was carried unopposed and many expressed their relief and satisfaction that this was being done, recognising the importance and relevance of this important step.
So, in Zagreb, a new Charter was voted in by the General Assembly, basically changing the constitution of the association. The new charter recognises Constellation Work as a qualitatively new approach, gives Bert Hellinger a clear, unequivocal acknowledgement as the Founder of this approach and also recognises that many others have been and continue to contribute to its development.
With this decisive step 'formality' completed, we decided to open up the space for anything else that wanted to emerge,.This had not been planned, but it made it possible for everything that was 'not on the programme to show itself.
We set up a group constellation. There were two facilitators designated to lightly hold the process and then everyone present could take up a position in the constellation, representing whatever they felt called to represent. One by one, most of us found our place, the floor filling with constellators, each one of them calling out what they represented as they took up their position.
It was moving and powerful, as so many aspects of our constellation community was re-presented. Some representatives were just standing, some moving, finding their right place in relation to others, sensing their way (and whatever they were representing) into this experience. Just sensing, just allowing, just experiencing. No need to change anything. I was completely absorbed in my representation, so I am not sure what took place, but I think the facilitator just invited us to observe and feel and then at some point brought in another representation for 'something new'. Shortly after this, we ended the process, everyone was obviously deeply affected by this process, each in their own way. What was noticeable to me was the sense of calm that came into the room, that hadn't been there before. Some of us shared our experience from the constellation, but there was not much need to talk.
We had found our peace, so it seemed to me, with what was and what had been. And each of us had found our own place in it. By doing that, we clearly did constellate the future as well. Or maybe the future was just ready to emerge, or maybe it was we who were ready for the future that was emerging. It doesn't matter how we put into words this unplanned 'Constellating the Future' process. As is the case in every good constellation, our concerns about the future were dispelled, by acknowledging everything as it was and had been, in the present. At the end of this process, I felt we had crossed a threshold. It was as if we the constellation community had matured enough to be able to meet the 'constellating challenge', individually and collectively, at least to a greater extent than had been possible previously.
This felt NEW – like a new step into a new future.
That evening, we celebrated with a heartful dance. And for many days after the event social networks were exploding with joy at the connections between us. We all had a contribution to make. We were a community. We were grateful for the opportunity to meet and share and most of all we were grateful for the opportunity to share in this Space of Constellations, created for us by our teachers. As my heart opened, I also felt deep appreciation for my teachers.
"What would I be without my teachers? How generously have they given to me from their treasure box of knowledge and skills that have served my life and my competence, so that I could grow into what I am now?  
Often, I forget what I owe them. It has all become so naturally a part of my life and of myself, and I feel so proud, it is as if it has all come from me. I sometimes forget my teachers; I forget how much I owe them; then I become diminished and I lose strength.
It is different when I have them in my heart, when I remember them with gratitude. Then I feel enriched. They are with me in what I do and in what I pass on to others, when, as they did to me, I am able to give to others what serves their life and achievement.    
Do I feel small in comparison to them? Not at all. I can stand alongside them, in the service of life, like them, humble and small before life, and thus all the more completely at one with life and its movements.
When I honour my teachers and share with others all they have given me, other people are able to take from me more openly what I give them for their life. Their gaze goes beyond me to all those who have stood alongside me and shared in my life, as I share it with others.  
Then we all look beyond our teachers, to the creative spirit who is equally at work in all life. As we did before this spirit, we bow to our teachers, and they, together with us, bow before this spirit. Before this spirit we remain below, on the ground, all of us, all grateful, all equally alive, and equally in the service of Spirit." (Bert Hellinger)
For me, the ISCA Gathering, and the personal process I went through as one of the organisers, ended with a deepened appreciation for everyone present and for all the constellators of the world who gather around the same core. It was clear to me that there is so much diversity and so much talent all over the world, so many constellators who have followed different learning paths and who are taking the work in many different directions. Zagreb also gave us a glimpse into the new generations of people who are attracted to this work and slowly emerging into it.The future of ISCA belongs to them.
"I can see that all the different ways, if they respect one another, contribute something special to this richness. When we approach a destination from many different roads, greater fullness is gained for all. To me, all paths are useful and valuable. I am happy to see the seeds I was allowed to scatter, sprouting and thriving and bearing fruit, wherever they fell on fertile ground." (Bert Hellinger)
There are clearly many more challenges ahead. Also, there is a lot of work to be done which needs the voluntary contribution of many for ISCA, our new association, and this wonderful sense of connectedness around the common core to continue. Whatever the future holds, the Zagreb Gathering feels like an important step into that future.
Alemka Dauskardt
Zagreb, Croatia
---
Reflections from the participants

Paul Stoney
I have often wondered what is the purpose of ISCA?
When I attended my first Bernried International Intensive in 2014, Bernried and ISCA seemed to me to be like inseparable twins. However,  I was also present the following year when the decision was made to separate the twins and I was intrigued to know what that would look like for both Bernried and ISCA.
I resolved to attend Bernried again in May 2016 to participate in the new manifestation of the Intensive now that it was no longer under the ISCA umbrella. Bernried was very different to previous years with fewer of the original faculty members present. However, there was a sense that strong new connections and possibilities were being created.
Meanwhile ISCA started monthly online Zoom conference meetings and I was keen to participate, as this made it possible to meet constellators from across the globe every month. Encouraged by the commitment of those on the calls (particularly the early birds in Australia) it soon became clear to me that I also wanted to meet these people in the flesh and attend the central gathering in Zagreb in October this year.
Not only was the ISCA gathering a great opportunity to meet people from the Zoom calls but also see again some friends from Bernried and make many new friends. We had some thought provoking talks and demonstrations from Cecilio Fernandez Regojo, Elena Veselago, Bill Mannie, Anngwyn St Just and Marianne Franke-Grisch as well as some excellent offerings from other participants. I attended a beautiful exploration of issues with Peace facilitated by Rainer von Leoprechting and Thierry Deketelaere.  There were some powerful work which really helped a sense of deep peace arise within the whole gathering. I also attended a very enlightening session led by Leslie Nipps on constellating our life in relation to what our alternative life might have been like. There were several other offerings, but sadly it was not possible to attend all of them. I have no doubt they all contributed to the richness of the gathering.
Time was also given for us to discuss in groups the past, present and future of ISCA and we had a whole group constellation to allow other important underlying issues to be revealed and expressed.
A key focus of the gathering was to vote on a new charter for ISCA, which combined the best features of the previous charters in 2007 and 2008 and provided a solid foundation for the future. A significant part of this was to once again acknowledge and honour Bert Hellinger as the Founder of constellation work. This was agreed with no dissent.
On a personal note it has been a great pleasure for me to play the beautiful grand piano at the start of each day at Bernried in 2015 and 2016.  I have felt that doing this has been an important part of connecting with the international participants through the common language of music. Because of this I also offered to play at the start of each day at the ISCA gathering and although a grand piano was not available, Max and Alemka Dauskardt took a lot of care hiring a good digital piano which also allowed me to be sensitive to the people present and the wider field. At times I felt I was playing for Bert Hellinger! For the Saturday night party I also thoroughly enjoyed playing blues and boogie-woogie along to the enthusiastic dancing joined spontaneously by fellow pianist Luis Moreira from Portugal and harmonica player Fritz Schwarzinger from Austria.
Alemka Dauskardt summarised the Gathering so well on the ISCA Facebook page:
We worked, cried, laughed, got lost and found ourselves again, danced, shared, connected, explored TOGETHER. Discovering talents and treasures, gaining gifts & insights. We honoured the past, explored the present and saw the future unfolding. We have seen that it is possible (and so rewarding!) to gather around the common core of Constellation Work as equals, respecting diversity and so many ways in which the work has developed.
Thank you again Max and Alemka for your loving commitment and organisational skill in bringing together this landmark event, which has been such a great success and has generated so much positive energy for the future.
Paul Stoney
Salisbury, England
---
Reflections from the participants

Leslie Nipps
What is the core of constellation work? How can we honor our foundation, while celebrating and making use of the enormous diversity of perspective and application that constellation work now reflects?
That was the central question of the recent ISCA gathering. With James Woeber, my fellow co-director of the 2015 NASC conference, I travelled to Croatia to participate in this international event with almost 80 of my fellow facilitators and constellation enthusiasts from around the world. I can happily report that international constellation work is alive and well, and a rich resource for all of us who love constellation work.
Founded in 2007, ISCA gathered in Zagreb this year at a time of transition and rejuvenation. Almost closed for business a year or so ago, ISCA is now on the verge of a new era of international constellation work and innovation. Great thanks especially go to Max Dauskardt of Germany (currently living in Croatia), who has led the effort to regrow ISCA and make it viable again. It's been a work of great passion and love for him.
The board currently consists of Max (Chair) and Elena Veselago from Russia (Vice-Chair). They are supported by a new 'Transition Team' who are committed to helping the Board in its continued transition to a new, expanded and more internationally-representative Board (which will be elected in early 2017). The Transition Team consists of myself, James, Orianne Corman (UK and Belgium), Andrew MacDonald (Canada) and Alemka Dauskardt (Croatia), and will probably grow in the weeks to come as interest in the work grows as a result of the gathering.
This gathering included an ISCA members meeting, when we affirmed Bert Hellinger as our founder; committed ourselves to tending to the core of the work while fostering innovation and diversity; and used constellations to discern the future direction of the organisation.
Alemka Dauskardt (Max's partner) was the gracious and effective organiser of the overall event, and she created something truly wonderful. It included a pre-conference workshop led by Cecilio Regojo on 'Interview, Connection, Responsibility and the Empowerment of the Client' which was a rich exploration of organisational constellations (and I had a constellation of my own facilitated!). Anngywn St. Just led a post-conference workshop on 'Individual, Social and Global Trauma', which emphasised the constellations insight that no trauma is ever truly individual. We also experienced presentations from Marianne Franke-Gricksh of Germany, Elena Veselago of Russia, and William Mannle from the United States.
I was impressed by the diversity of these presenters. They represented some very different points of view on constellations, and I imagine that if they sat down over a glass of good Croatian beer or wine, they'd quickly discover some important differences in how they understand the Field, the role of the facilitator, what the outcome should be for the client, and much more. It was thrilling! But across all of these presentations, the commonality also came through with great – and even moving – power. In the diversity, we could see the common core of what we do, and what fundamentally binds us together as constellation workers. Even if we sometimes argue about exactly how to express that! (A Statement of Core Concepts should be forthcoming from ISCA soon, following the work at the gathering).
The focus of the gathering, as shown in the title, was the future – of ISCA and of constellation work. How do we constellate the future, and participate in its creation? By honouring and being inspired by our foundations, and by creating active spaces where diversity and innovation can thrive. This gathering did both – and by doing so, hopes to be a vehicle for this to continue in unexpected ways into the future.
I came away with a deep conviction about the critical importance of these international connections, and a personal commitment to supporting their growth. Personally, constellations become more fun, beautiful, insightful and powerful when expressions from around the world are included. It doesn't hurt to do that in a place as lovely as Croatia.
The next ISCA gathering is planned for Sept. 14-18, 2018 on Croatia's Adriatic coast – I encourage everyone interested in the growth of international constellations work to join ISCA, support and be supported by the work, and come to our next gathering.
Leslie Nipps, MDiv
US
—————————————————————————————-
Reflections from the participants
Silvia Siret
I have recently become a member of the International Systemic Constellations Association (ISCA) and attended their Gathering in Zagreb, which was all about re-creating the organisation. We had two full-day workshops (Cecilio Fernandez Regojo's and Angwyn St.Just's) and smaller workshops (with Elena Veselago, William L. Mannle, Marianne Franke) on 3 days, as well as working groups and a General Assembly.
Between 65 and 85 members from more than 12 countries were present to celebrate systemic constellations in all its beautiful variations. I connected with so many lovely souls, learned tons and finally felt like I belonged to a like-minded community. What a gem ISCA is! And what a tremendous amount of work went into this meeting by Alemka and Max Dauskardt as well as Elena Veselago and some other helpful people. I know that this organisation is growing and giving us a platform to grow ourselves and feel the support. The next Gathering is planned for 14 – 18 September 2018.  Put this date into your calendars!! ISCA organises regular monthly Zoom Meetings, usually on Thursday evenings – also a great opportunity to connect and share. If you'd like to check it out, go here: http://isca-network.org/
Thanks to the Board and all the helpers for making it possible!
I have since facilitated a workshop on relationship issues, and the learning from the Gathering was already embodied and fully showing in the way I approached the different explorations. These were some of my learnings:
Trying to help doesn't help
Focusing on the client at all times is of utmost importance
Addressing trauma in the constellation might re-traumatise the issue holder
Fixing the past is not possible
I now know how important it is to see other constellators at work, especially those who have International recognition and are teacher trainers.
Another benefit I got from becoming a member of ISCA is that my insurance company finally accepted and insured me as a constellations facilitator.
With huge gratitude,
Silvia Siret
England
---
Reflections from the participants on FB
Verónica Patricia Vázquez Moyado
Thanks Max! Yes, it is our conscience that binds us and strengthens or not, our state of belonging. Personally , by being now a member of ISCA, I can feel that strength also represents a step forward that makes me proud to belong, especially after having experienced such productive, insightful, knowledgable and inspiring days with so many wonderful, heartful, committed and generous beings. I am so-ooo grateful to You and Alemka Dauskardt for the invitation to join (in Mexico) and so happy I took the opportunity to attend! For me there is a before and an after as a Constellator after having been in Zagreb!
With such experienced diversity of talents; learning from such great master constellators as: Marianne Franke, Annwyn St Just, Cecilio Fernandez Regojo; acquiring more skilful tools; opening to new heartful ways with William L. Mannle ,experiencing to be aligned and to establish a better connection with the consultant in the session with James Woeber ; setting up a ConstelIation for the future with Elena Veselago….. precious, endurable friendship connections…..
I could keep on writing about my many rich experiences and mentioning so many amazing soulful people, whom I had the joy and privilege to meet.
…. an amazing ,insightful, professional and knowledgable experience that now belong to us all as we all belong to ISCA .This feeling of belonging is absolutely WONDER … FULL!
My gratitude to YOU ALL!!!
Verónica Patricia Vázquez Moyado
Mexico
---
Marianne Franke, the presenter
"Regardless of where I go, of how 'exotic' the country is where I constellate – what we have in common as human beings is always visible – everyone wants to belong, we all want to be seen, respected and loved.
And it is also true that where-ever in the world we constellators meet, and by 'constellators' I mean all those knowing and participating in this work in whatever way, we recognise each other and there is an immediate bond and ease of connection which is often difficult to achieve with those who are not constellators, even if they are your best friends.
This work is a home for us and provides a certain knowledge and worldview which connects us to each other and sometimes disconnects us from the rest of the world. I am sure you have all had those awkward situations where you tried to explain to someone what exactly it is that you do and love and believe in..…And if you have been in this field of constellations deeply for a while, then I am sure you have noticed how many social interactions which we may have participated in in the past, just lose their appeal until we find ourselves surrounded almost exclusively with other 'constellation nerds'."
Marianne Franke
Germany
---
Elena Veselago, the presenter
"Here in Zagreb, on the eve of the opening of ISCA Gathering, I was pondering the questions: What is ISCA and what am I doing here?
The answer comes: I am here to share experience in the field.
I don't need guidelines or structure or even teaching, what I really need is shared experience.
My colleague reminded me today of Mattew 18:20
"For where two or three gather in my name, there am I with them."
For where 80+ constellators gather, there is a field :-). That's the reason I am here."
Elena Veselago
Russia
---
We met in Zagreb, Capital of Croatia, right at the main square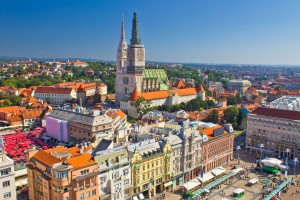 Next Gathering : 14. to 18. September 2018
 mark the date
place TBA