Opatija – Pearl of the Adriatic

Opatija was included in the territory of the Liburni, a pre-Roman Illyrian tribe. In Roman times, the area was home to several patrician villas connected to the nearby town of Castrum Laureana, the modern Lovran.
A good climate, luxuriant Mediterranean vegetation and a favourable geographic location contributed to the rapid development of tourism during the late 19th and early 20th centuries. Since that time, Lovran, together with Opatija, has been the most important locality on the famed Riviera. Several villas designed by the celebrated Viennese architect Carl Seidel dating from that period are part of the world architectural heritage.
The town's modern history began in 1844, when Iginio Scarpa, a wealthy merchant from Rijeka, had the Villa Angiolina manor built in an extended park, which played host to many famous historical figures, such as Emperor Franz Joseph and the German emperor Wilhelm II. Other crowned heads seeking relaxation included Empress Elisabeth of Austria and the German empress Augusta Victoria, King Carol I of Romania and his consort Elisabeth, King George I of Greece, King Albert of Saxony and Grand Duke William IV of Luxembourg.
More recently, our meeting venue, Remisens Hotel Excelsior (4*) Lovran has hosted some less royal but nevertheless famous guests such as actors Jane Seymour and Pierce Brosnan.
Opatija is located 18 km (11 mi) southwest of the regional capital Rijeka. There are four international airports within a 70 km radius: Rijeka, Pula, Ljubljana and Trieste. It is also easily reached by a 2 hour drive from Zagreb, another international airport. The city is geographically on the Istrian peninsula, though not in Istria County. There are plenty of magnificent historical and holiday spots to explore in its immediate surroundings.
The well-tended parks and enchanting promenades make every walk in Opatija a special experience. One can enjoy the exceptional beauty of the town's parks and benefit from the relaxing atmosphere close to the sea. Or take a walk right by the sea along the famous Lungomare coastal promenade.
Venue
Surrounded by a tree-filled park on the Opatija Riviera, Remisens Hotel Excelsior (4*) Lovran is situated right on the Adriatic Sea and it is an ideal spot for holidays and relaxation.
The four-star hotel offers spacious rooms and amenities designed to fill your days with fun. Indulge yourself in the SPA center and its massage rooms. Spend your day at one of the swimming pools or beach – Adriatic sea still warm enough for swimming in September. The easy access to the coastal promenade Lungomare calls for a walk any time of the day.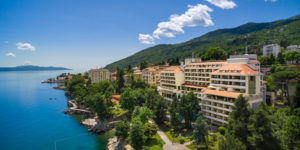 (click on the image for more images of the venue, it's surrounds and a map)